the individual.

Sierra Van Ryck deGroot
is doing the best she can
.
Born off of Exit 148 and raised off of Exit 114, she is a staunch supporter of the existence of Central Jersey.
She has a BA in Art, Design, and Interactive Media; Fine Art; and Art History from Seton Hall University. Sierra also has a MSEd in Museum Education with a specialization in Childhood Education from Bank Street College of Education.
She currently works for
Museum Hue
as the Deputy Director.
Sierra is a co-editor of
Viewfinder,
the
NAEA Museum Education Division
's journal as well as a board member of the
New Jersey Association of Museums (NJAM)
. She just finished serving on the
National Emerging Museum Professionals Network
(NEMPN) board as a Co-President (1/2 of the former Sierras Leadership team).
In her free time, Sierra enjoys visiting museums, reading, eating good food with good company, and craft beers.
You can find her having a lot to say on Twitter as
@sierra_vrd
or occasionally posting on Instagram as
@sierragoesthere
.
the work.

👩🏾‍💻Currently Working as

Deputy Director of Museum Hue


---
📍️Previously Seen As

Assistant Director of Education
Poster House | December 2020 - June 2022

Education Programs Manager
Poster House | October 2019 - December 2020

Education Assistant
The Aldrich Contemporary Art Museum | July 2018 - October 2019

Program Assistant
Cool Culture | June 2017 - June 2018



📣 Last Heard From

Transience and Turnover: Surviving Museum Work
American Association for State and Local History
(AASLH) | September 16, 2022

Museums as Agents of Change: Engaging Communities in Civic Action
American Alliance of Museums (AAM) | May 20, 2022

NYC/AIC: Collaboration in a Time of Crisis
Museum Association of New York (MANY) | April 11, 2022



💡️ Can Also Be Found Doing


Board Member | New Jersey Association of Museums (NJAM) | June 2022 - present

Grants Reviewer | New Jersey Council of Humanities | March 2022 - present

Grants Reviewer | New York State Council of Arts | August 2021 - present

Co-Editor-in-Chief| Viewfinder, NAEA Museum Ed Division | September 2020 - present



︎︎︎ Past Sightings

Co-President | National Emerging Museum Professionals Network| July 2020 - July 2022

Secretary and Peer Group Liaison | New York City Museum Educators Roundtable | July 2018 - June 2021

the passions.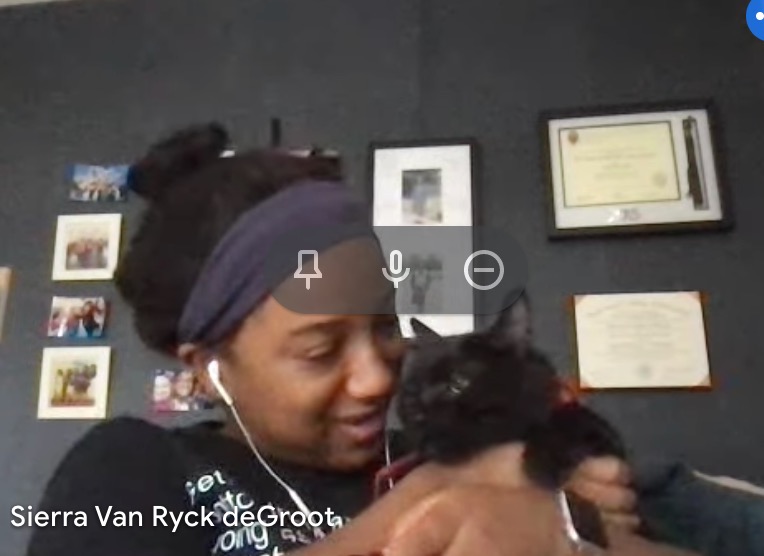 Madonna and Child
, Google Meet Screenshot, Imani Parkinson, 2022.
the wonderings.
Random Spoken Thoughts on the Internet

When Next is Now: Programming for Young Adult Museum Lovers + Professionals
New Jersey Association of Museums (NJAM) | November 4, 2021
Make that Network Werk, Werk, Werk for EMPs (Presenter)
Museum Computer Network (MCN) | October 28, 2021
Brooklyn Museum Intern Convening (Panelist)
Brooklyn Museum | August 2021
New Year, New Skills: NYCMER Career Symposium (Presenter)
New York City Museum Educators Roundtable (NYCMER) | January 10, 2021
Tool Petting Zoo: Getting Hands-on with Airtable and Other Tools for Collections, Exhibitions, Project Management, and Content Strategy (Panelist)
Museum Computer Network (MCN) Virtual Conference | November 11, 2020
Young Professionals and the Future of Museums (Panelist)
Greater Hudson Heritage Network (GHHN) Conference | September 30, 2020
On Being A Good Mentor ft. Sierra Van Ryck deGroot (Podcast Interview)
Scholars Beyond The Tower | August 26, 2020
Museum Internships Past, Present, and Future: Dismantling Systems of Powers from the Ground Up (Panelist)
Death to Museums Unconference Series | August 2, 2020
How to Manage a Remote Internship Program at Your Museum (Panelist)
Cuseum Webinar Series | April 30, 2020